Disruptive Leadership
MediaTransport's Valerie Decamp is a media entrepreneur with a taste for digital transformation. Handpicked by Publicis CEO Maurice Lévy to spearhead the first edition of this spring's Viva Technology event, she shares her insights into disruptive leadership with English Connection founder Jennifer Cortright.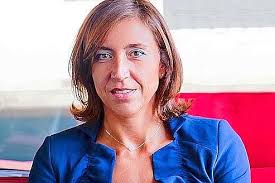 The main driver of Valerie Decamp's 20-year career has been steering disruptive and innovative strategy. It all started at NRJ radio station, where she innovated by creating a culture of quality over quantity. It was soon recognized as a huge success, with the ratings to prove it.
As Managing Director of Metro Ms. Decamp broke all the rules by being the first to offer a free daily newspaper, a totally new press concept. Metro quickly became the N°1 daily paper in France, with a circulation of 700,000 – and the only profitable newspaper at that time!
La Tribune was her next entrepreneurial adventure. Taking over the paper was a high-risk move, but she kept ahead of the game by driving an ambitious diversification program. In the context of the worst economic recession since 1929, La Tribune was the first paper to launch a mobile application ranked n°1 by users in 2011. Valérie Decamp enlarged the La Tribune brand by initiating high profile corporate events such as the "Social Entrepreneurship Award" and the "La Tribune Women's Awards".
Ms. Decamp believes that the best way to support gender equality is to take an inclusive, gender-blind approach – working with men, not against them. She designed the La Tribune awards to actively involve men in the deliberation process. The women who win these awards are identified and nominated by business leaders and entrepreneurs of both sexes.
At MediaTransports, a subsidiary of the Publicis media house MRE, Ms. Decamp has accelerated digital transformation. She's invested in digital screens and created a new digital positioning at the core of sales strategy. Despite the fact that it represents only 1% of MT's ad space, the digital market is the one that's growing the most. This shift in strategy has had a solid impact on the bottom line: 30% of revenue now comes from digital sales and overall growth is up 10% since her arrival.
She's earned a reputation in the business world: people know that when Valérie Decamp is on board, she'll get the job done.
That's probably why she was tapped by Maurice Lévy to spearhead THE tech event of the year in France, Viva Technology. The 2016 first edition will feature global corporate sponsors such as Google, BNP, AXA, Orange and top business leaders from around the world. Conferences, keynotes, a pitching ring, a Hall of Tech showcasing the latest trends in technological innovation… Viva Tech seeks to connect financing institutions, venture capitalists and large corporations with the most innovative and agile start-ups, helping them grow their business and shape the future.
Contact English Connection's expert coaches for support in delivering keynotes and honing start-up pitches: Jennifer Cortright 06 74 44 24 17